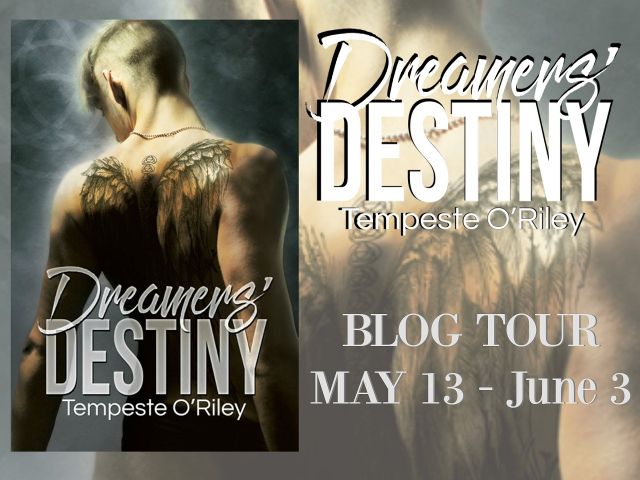 (click HERE to find the full tour listing)
Welcome to the Dreamers' Destiny Blog Tour. I want to begin with special thanks to Charlie Chochet for welcoming me today. I hope you'll follow the entire tour. There are plenty of chances to win a signed paperback copy from my backlist, $25 at Dreamspinner Press, an audiobook of either Designs of Desire or Caged Sanctuary, and more!
Each tour stop will feature an excerpt along with some question that relates to the post. Check the Rafflecopter at the end of the post to enter your answer to the question. A few stops will have special (additional) giveaways as well, so make sure you check out the whole post!
Now, let's see what I have for you today….
Exclusive Excerpt
"I saw him. I mean… I see him every night, but this time I swear I really saw him." He ran his hands through his disheveled hair, not caring how bad it would look afterward. "I was at the club dancing, you know, and well, my dance partner and I stepped off the floor for a more, um, private moment."
She cleared her throat, stopping him midramble. "So you got laid?" Dianne giggled and a light flush spread up her cheeks.
"Just a blowjob, Di. Seriously"—he fidgeted, uncomfortable discussing tricks with her, especially knowing how rare such actions were for him—"that's not the important part!" Nor was the fact he hadn't been able to actually go through with it—much to his partner's irritation. For whatever stupid reason, his heart wouldn't let him. He'd felt as though he was cheating on Cam, even though Cameron wasn't real. Well, he didn't think Cam was real…. Maybe…. "The point is, when I was on my way back to the bar afterward, I saw him." Liam shivered, nauseated over the thought of his next words. "Cam was sitting at the far end of the bar drinking, though I'm not certain what. But—"
"Wait, your dream guy is real?" she squealed. Dianne threw her arms around him as she bounced on the cushion beside him. "That's wonderful!"
"Okay, see, now you sound as nuts as I do! He can't be real, Di. That isn't possible. I've dreamed of Cam since I was seventeen. People don't just materialize into reality simply because you want them so desperately, waking up breaks your heart."
"Normally, I would agree, hon," she soothed. The pitying look in her eyes made him wish he'd kept that last bit to himself. "But maybe he's someone you saw once when you were younger and now he's back in the area?"
Liam shook his head before she'd finished speaking. "No, not possible. He has grown and aged in the dreams just like I have. And, well, other than the sadness in his eyes the other night, he looked like he always does in the dreams."
"Hmm…. Have the dreams changed since then and why didn't you go over to him?"
"I, um, I froze when I saw him. Or what I thought was him. By the time I got my feet working again and managed the distance between us, he was gone."
"And the dreams," Di pushed. "Are they the same?"
"No. I came home after he disappeared. Staying at the club wasn't something I could even fathom right then," he added, thinking of how hollow he'd felt, and still felt, for that matter. "I curled up on the couch and fell asleep thinking about Cam." Liam picked at a cuticle as he thought about the dreams the last two nights and how he had not wanted to wake either morning. "The tone of the dreams changed completely after that. Cuddling, kissing, and spending time together as if we were an ordinary couple. That's how they've been since I saw, or thought I saw, him. I wake up and feel like I've just been dumped all over again." He looked down at his best friend and aunt, desperate for help, hope, anything, really. "Something's got to give, Di." He didn't bother hiding how afraid and demented he felt by that point.
He wasn't even sure why the change in the tone of the dreams had happened. Why had they changed to cuddling and couch time instead of fun and sexy time? He had a theory, but it sounded too crazy to share with Di, even crazier than the rest. How did you tell your aunt you were living an entire dream life? One where he had the life like he'd always wanted when he was awake? Yeah… that didn't sound nuthouse worthy at all, nope!
Dianne was quiet as she tapped one of her perfectly manicured nails on the arm of the couch, staring at him so hard, he fought the impulse to squirm. "What if there's a possibility this Cameron of yours is real and—" Liam started to protest, but she put her small hand over his mouth. "Shush, you. Now listen to me. I've talked to a couple of the guys in my circle, and Nosha suggested he might be able to help you with your dream issues."
"Di, I love you, you know that, but what does your Wicca group have to do with my guy issues?" Exasperated wasn't a strong enough word for how he felt. Religion wasn't something he focused on or valued, per se. He wasn't against it, but Di's faith in ancient deities hadn't ever been his thing. Besides, how did religion and hallucinations mix?
"Will you just meet with him?" She cupped his scruffy cheek, her voice soft but determined. "Please? It's not often that he even takes on students like this. He turned away the last man that tried to get him to teach. Don't throw away this chance, especially if it means finding out if your Cam is real—which he is."
He thought about it for a moment, ignoring the last part of her rant, and then sighed. "Can't hurt, I guess." He shrugged. "Don't know what good it'll do, though, so don't get your hopes up, okay?"
Di beamed up at him. "Deal. Now let me make you some tea, and we can visit about things other than your boyfriend."
"Dianne."
She tisk-tisked at him as she stood and headed for the kitchen. Liam sat staring at where she'd disappeared, bemused at how his mental breakdown had somehow turned into circle and teatime.
People don't just materialize into reality simply because you want them to so desperately that waking up breaks your heart.
Dreamers' Destiny
by Tempeste O'Riley
M/M Erotic Contemporary, Occult/Paranormal, Romance
Publisher: Dreamspinner Press
Cover Artist: Reese Dante
Release Date: May 13, 2016 (ebook/print)
Length: Novel / 200 pages
Order:
♥ ♥ Dreamspinner Press ♥ All Romance ♥ Amazon ♥ ♥
Add to: Goodreads
Description:
Liam Grady is the owner of the Feathered Quill, a quirky little bookstore in Asheville, and—though he doesn't realize it yet—a dream walker. His last relationship failed almost a year ago, and he's not had the interest or nerve to pursue anyone he's met since.
Cameron Danu is a tattoo artist from rural Georgia. Cameron is left without a job after his boss, Jose, is forced to close the shop after a heart attack. When Cameron learns Jose has set up an interview for him at a small tattoo parlor in Asheville, he hopes for a fresh start in a new town.
Fate brings Cameron and Liam together, and they realize they've met before—in their dreams. A chance encounter and a winged tattoo might lead them to their destiny—if fear doesn't turn their dreams into a nightmare.
Don't forget to enter the giveaway!
Other Works by Author:

Designs of Desire – Simple Desires*+ – Bound by Desire* – Desires' Guardian – Temptations of Desire – Truth in Lace* – Desires' Pride* – Signs of Desire
Micah's Medicine+ – Caged Sanctuary – Whiskers of a Chance
*shorts in series +shorts in anthologies
About the Author: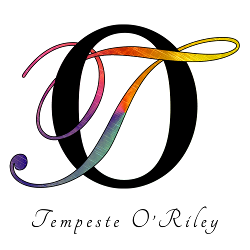 Tempeste O'Riley is an out and proud pansexual genderfluid whose best friend growing up had the courage to do what they couldn't—defy the hate and come out. He has been their hero ever since.
Tempe is a hopeless romantic who loves strong relationships and happily-ever-afters. They has done many things in their life, yet writing has always drawn them back—no matter what else life has thrown their way. They counts her friends, family, and Muse as their greatest blessings in life. They lives in Wisconsin with their children, reading, writing, and enjoying life—especially now that they have joined the Sisters of Perpetual Indulgence® (as Novice Sister Eroti-Quill… can't imagine where that name came from).
Tempe is also a proud PAN member of Romance Writers of America®, WisRWA, and Rainbow Romance Writers. Tempe's preferred pronouns are they/them/their/theirs/themselves. To learn more about Tempeste and their writing, visit http://tempesteoriley.com.
Website ♥ Goodreads ♥ Twitter ♥ Facebook ♥ Google + ♥ DSP ♥ Blog